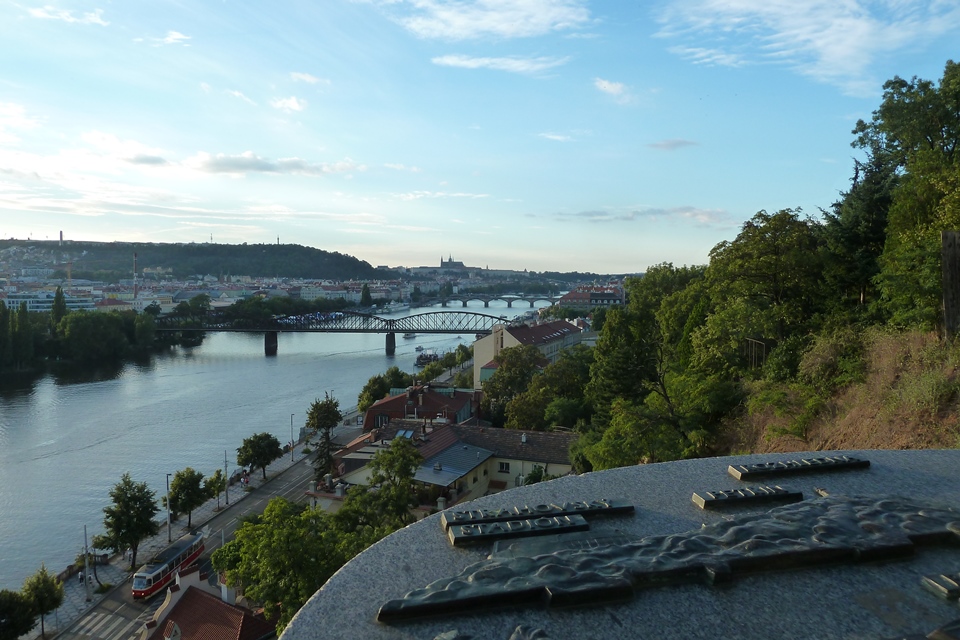 Prague – (not only) beer and cucumber drinks
Anyone who keeps the ability to see beauty never grows old (Franz Kafka).
Imagine there was a place where you can have it all – history, culture, recreation, live music and interesting people – and combine it with a decent pint of beer in a bar for just 1.50 Euros. Sounds good? I'm telling you a secret: It does exist!
Prague. Without any exaggeration, I can say I instantly fell in love with this city.
If living in Eastern Germany, Prague is just a stone's throw away. Three hours drive by car to be more precise. However, if you consider the actual way to a place as the real journey like I do, you can grab your tent and travel by bike (or foot, if you have more time) through a stunning landscape along the rivers Elbe and Vltava. Our journey brought Jori and me from our homebase Leipzig over Riesa, Dresden, Ústí nad Labem and Mělník in five days to Prague. Besides seeing some beautiful spots and the low CO2 footprint of biking and camping, you'll also directly get the physical exercise you need before enjoying all the great beers and food you'll face in Prague.
#1 The Beer (Chzech: Pivo)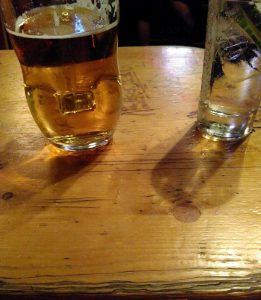 You should get prepared. The Czechs are beer drinking nation number 1. With on average around 150 Liters yearly per capita, in no other country in the world is beer consumption higher – and with that they even beat other drinking pioneers like Germany and Ireland. As a consequence the Czech are not only good at drinking beer, but also in brewing it and so they have a huge selection, especially Lagers – furthermore they are the inventors of Pilsner, a special type of Lager.
So first and most important thing on your must-do-list for Prague is tasting beer.
In four days in the city we had around 20 different types of beer and I'm happy to share with you my favourite ones among these. If you are a dark-beer lover like I am, you definitely should go for the award-winning Bernhard Dark Lager  (I'm pretty sure the other types of that brand are awesome as well and I'm still quite sad, I didn't manage to try the Amber Lager yet).  Černovar Černé is another dark Lager definitely worth a try. Staropramen Premium is a pretty well-known Lager, always a good choice and since brewed in Prague, is a must-have anyway. However, if you like it a bit richer in taste also go for the Staropramen unfiltered and I promise, you won't regret anything! Let me know when you are having the dark version, since I didn't get the chance to try. Flamen 11° is a great light beer, which however seems to be quite unknown. We had it in an awesome alternative bar called Bajkazyl, which I mention again later. Since Pilsner was invented in the Czech Republic, you can't leave the country without having a decent one of these. Pilsner Urquell is probably the most famous, but I preferred Gambrinus, which is brewed in the same brewery in – BIG SURPRISE! – Pilsen (Czech: Plzeň). Kozel dark was not among my personal favourites, but I want to mention it anyway as it is kind of special and definitely a good beer for those who like it a bit more malty. Unlike other dark beers, it's foam is dark too, so it's an eye-catcher as well.
Probably I could go on like this for pages, but let's move on. Everyone has to make his or her own experiences anyway. So, just explore the awesomeness by yourself and na zdravi!
 
Beer at Na Hradbách (empty glasses on the right are not ours). (photo: facingchange)
#2 Cuisine
While you can feed yourself with only having beer for quite a while, you definitely don't need to do that in Prague. Food prices are low as well compared to other European standards and you can easily get a high quality two-course meal including drink for just 15 Euros or even below. A small disadvantage as I find is that eating vegetarian at the first glance seems impossible since Bohemian Kitchen is quite meaty. However, if you avoid the crowded main tourist streets, you'll find a lot of alternatives. A great option is Maitrea, a vegetarian and vegan Restaurant in a stunning India-meets-Woodstock atmosphere, where you can also get vegetarian versions of the typical Bohemian cuisine with its tasty dumblings. But no need to seek for special vegetarian restaurants only, since usually you can find at least one vegetarian option in most pubs or restaurants as well. Another location we tried and would warmly recommend (especially if you don't want to have the quite heavy Bohemian cuisine every day) is the Café Creperie Pod Věží, a French style place, which is not too crowded although located close to Charlesbridge. You can find all kinds of sweet crepes there, but also galettes, the typical french savory crepes made of bucket wheat. Great choice and gluten free. If looking for some typical pub food while starting a beer session, Hoppallaaa is a nice place. Food is not award-winning there, but definitely good enough and the location is a nice and cosy locals pub where you won't find many tourists. Lemon Leaf is an excellent Thai restaurant, where I had one of my best non-alcoholic drinks in Prague that directly brings me to the next section:
#3 Home-made lemonades
I had no idea. But now I am pretty sure: Prague not only is the golden beer-city, it's also home-made-lemonade-paradise. Freshly prepared and with real fruits this refreshment is just awesome. So taking a beer break and trying the different kinds of non-alcoholic lemonade flavours is a good choice (especially on hangover-days). There are many, and we didn't manage to try them all, but probably the best grapefruit lemonade you'll find in Zephyr Excellent Urban Pub right in the city centre. Being honest, we didn't try another grapefruit lemonade, so actually we cannot really make a comparison. However, it was just so awesome, I'd doubt you find a better one. But if so – please let me know! Also, don't hesitate to try cucumber lemonade or you will seriously miss something in your life. We had ours in Lemon Leaf restaurant mentioned above and it was delicious.

We forgot to take a lemonade picture, sorry for that. This shows an ice tea – but just imagine. (photo: facingchange)
#4 Sightseeing
So far I might create the impression we only ate and drank all day long – but we always combined it with exploration! The inner city around Prague Castle, Charlesbridge and Old Town Square is heavily crowded, loud and, compared to the rest of Prague, pretty expensive (up to 3 Euros a pint). It's also full of typical tourist trash stores and equivocal Thai massage studios, where you can see people sitting at the display window, holding their feet into water so that allegedly small fish can nibble away the hard skin (no idea how often they change the water though…).
Old Town Square, Prague 1. (photo: facingchange)
However, I'd be crazy if telling you to avoid that area. You definitely shouldn't since it's just stunning and full of history with amazing buildings and – if you manage to shut out all the bustle and selfie-sticks – a unique fairytale atmosphere. I mean, there is a reason behind those touristic hotspots: usually these are beautiful places. So, for sure go there, look around, have a beer and a plaited bun (a sweet sugary pastry thing you only need to try once, unless you want to suffer from diabetes instantly). If you are interested in culture and history, take a Sandemans free tour, which I can highly recommend. However, better don't get yourself one of these strange Thai massages – if you want to get a real one in Prague, go for those more hidden and without neon-coloured advertising; e.g. we had a decent one in siamspa. Also, better don't waste half an hour in front of the astronomical clock just to watch the famous "Walk of the Apostles" – it's not worth it. Our Sandemans free tour guide recommended to rather position ourselves towards the opposite direction and watch the people's disappointed face when the play starts. I didn't try this, but I assume this is definitely worth the 30 minutes. Well, and if you want to see the Prague Castle from inside, you can easily spend an hour or so standing in the queue – or you can just decide to not go inside and instead discover some of the many other great spots in Prague!

Our plaited buns: they are sweet, they are fatty – and yes, it's totally exaggerated to order them with chocolate. (photo: facingchange)
  
How boring would life be without any contrasts? (photo: facingchange)
A stunning view over the city you'll get in the park area of Vysehrad castle where you can also just sit around in the green and relax from busy city life. There, we also found Na Hradbách: an extraordinary and large beergarden that is not only dog but also children friendly and mainly attracts local people. On your way back to the inner city, walking along the Náplavka river promenade with its plentiful number of barboats and joyful people is a great idea, especially during sunset. Another place we came across and which was nice to chill and hang around is Strelecy Island.

One of many boat bars along the river promenade. (photo: facingchange)

View to Charlesbridge. (photo: facingchange)
#5 Nightlife
Probably it was the nightlife that gave us the full dosage of real Prague experience. Thereby, you might need to adapt to the fact that smoking in locations is still common there. While in Germany smoking in public locations is banned, non-smoking bars in Prague are rare, which was a bit irritating and uncomfortable to us in the beginning. However, it would be a mistake to avoid these smoky places since then you'd miss out a lot of great fun. So, just be aware of it and better pack one extra shirt for the next day.
The best thing of having a night out is that the less you expect or plan, the better the night will be. Sometimes things are happening you'd never expect – but which are so hilarious, you'll probably still die laughing decades after it happened. I would say Prague is a city where such experiences are very likely to happen. In one moment you might just order your last beer before planning to go to bed relatively early at 1 am and suddenly you will end up with a group of charismatic, leather shorts-wearing Bavarian stag party guys in a strip club, where you personally lead them to. Just to give a sheer hypothetical example.
Generally, the bar scene in Prague is massive and of course we could just experience a tiny fraction. We prefer bars over clubs, locals over tourists, underground over fancy atmosphere and live-music over café del mar playlists. So the following list meets our personal interests, however, you can find locations for all tastes. Red Room is a small and cosy music pub, with regular live music and excellent gin tonic for only 3 Euros.

If you see a window like this: go and enter. (photo: facingchange)

Fabulous gin tonic discovered @ Redroom. (photo: facingchange)
A from the outside quit inconspicuous underground bar, we luckily discovered accidentally is Klub Buben with Punk, Ska and Reggae music. The bartender lady on that day was kind of tough but efficient and you can enjoy freshly tapped original Budweiser (not to mix up with the American one, which tastes like water). Opatovická is a small street away from the touristic "hardcore" and offers some very interesting looking alternative bars. We didn't check them from inside though due to time limitation, but it's on our list for next time. I previously mentioned Bajkazyl, an alternative bar on the riverside. It used to be a bike workshop only, but now also offers a nice beer selection and regular live music events with punk and rock focus. Generally, you could spend your whole night just along that river promenade and jump from one pub boat to another.
  
Opatovická Street in Prague 2. (photo: facingchange)
So, ready to plan your trip?
Then let me give you a last recommendation (and no I don't get paid for any advertising – everything I tell you is rooted in deep conviction). In Prague, we stayed in Mosaic house and would definitely go there again. It's affordable, modern and perfectly located so that you can explore all the awesome places mentioned above by foot. Furthermore, it's green – and with that they had us.
That being said, I wish you good fun with planning your next trip and šťastnou cestu!
photo: facingchange (showing the view over Prague from Vysehrad castle)