Green Household Challenge: Dirty Dishes?
Dishwasher
When mentioning my plans for this challenge to someone, I was frequently asked: and what are you going to do about the dishes? Only washing them by hand? No, I figured, I don't really want to do that… There has to be another way! And, there is: mixing your own detergent for the dishwasher! This detergent consists of only 4 ingredients, and you don't have to pay heaps of money for expensive plastic. In addition you get rid of the plastic around every single tablet. Admittedly, my basic ingredients are also packaged, but, since I use most of them for other products as well, and bought large amounts, in sum there most likely is less packaging.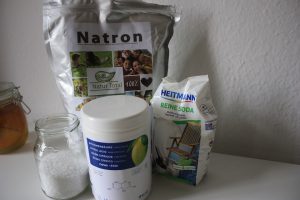 The ingredients are:
300g Citric acid powder
300g Soda
300g Baking Soda
125g dishwasher salt
The different soda types are sold in drugstores (there is a difference between the two). I still had some dishwasher salt at home, but it is sold in every supermarket. I just had to buy the citric acid online, as I wasn't sure where else to get it. This needs to be a pure powder, as it iwll otherwise react with the soda before it even enters the dishwasher.
The only thing left to do is to mix it all together. It is important that all the ingredients stay perfectly dry, otherwise they will clump together and won't work properly. I just put all the ingredients into a large glass jar and mixed them by turning and shaking it. When using it, I just put a table spoon of the powder where the tablet normally goes and turn on the machine.
As the mixture gets into contact with water it reacts and develops an astonishing cleaning power. Everything I put in the machine up to now has been perfectly clean, even if it had been standing there for a while already. By the way, you can easily replace the rinse aid by putting citrus peals into the cutlery tray in the machine.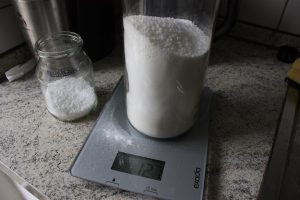 Dishwashing by hand

Unfortunately I can't clean everything in the dishwasher (that would be too easy). Some pans, knives or cutting boards simply have to be cleaned by hand – so we need a replacement for the detergent. A bit of research showed: there are many options. I chose one for which I had all the ingredients at hand.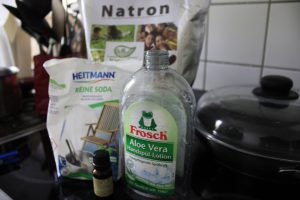 Those ingredients are:
1 TL Baking Soda
1 EL Soda
20 drops of essential oil (I used lemongrass)
Water
The dry ingredients are filled into a bottle, of course it works best with the bottle of your former detergent. The bottle is then filled-up with water and the essential oil is added. In the original recipe lemon is used, but as I had lemongrass at hand, I used it. Of course you can pick whatever fragrance you like. Screw the cap on, shake the bottle, and your done!
The cleaning power is absolutely convincing and its cheap, too! Different from store-bought detergent it of course is a very thin liquid and doesn't produce much foam. This needs some getting used to. Other than that however, it is, in my experience just as good as any other.
If you'd like it to be more viscous and foamy, you can try an alternative (sorry, German) with cured soap (preferably one without palm oil). Furthermore, you can also clean your dishes with the water from cooking pasta, or with potato peels. Up to now I have only had the opportunity to try out the pasta-water and I was able to clean my pan with it, though it involved a little more scrubbing. You just have to rinse it with clear water afterwards to wash the starch (which is the cleaning factor here) off your dishes. Another alternative is ivy – I might try it out later this month.
All in all I am very convinced by all the alternatives. I don't think I'll buy expensive dish washing detergent anytime soon. It is not necessary at all, and all those chemical substances can stay out of my household. Try it out, tell me about your experiences and let me know if you know of any other alternatives!
Photos: own, Scott Umstattd unsplash.com